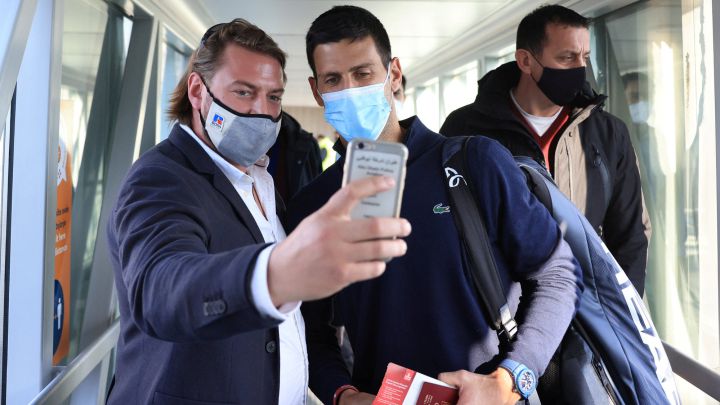 If the Emirates flight that Novak Djokovic took from Melbourne to Dubai was one of the most followed in the FlightRadar application during the day yesterday, This Monday 'Nole' took the second flight back home after confirming his deportation at the Australian Open: the one that took him to Serbia.
The Serbian tennis player landed in the midst of great expectation this Monday around noon in Belgrade, where he will now rest while he reflects on the next steps to be taken during the season. A season that could be even more complicated after France announced that it was going to ask for the vaccination certificate in public places. A fact that would prevent Djokovic from defending his throne at Roland Garros.
Djokovic will spend the next few days in Belgrade, although his mother Dijana has confirmed in statements to the Serbian outlet Tanjug that 'Nole' will not make any statements about what happened in Australia in the next few days.
The figure of Djokovic, present at the Australian Open
During this first day of the Australian Open, several Serbian tennis players wanted to remember the absence of Novak Djokovic. Miomir Kecmanovic, against whom Djokovic should have made his debut (finally Salvatore Caruso replaced him) said he will play every match as if it were "revenge" for 'Nole'. more expressive was Dusan Lajovic, who after winning his match against Marton Fucsovics did not hesitate to pose with a Serbian flag with Djokovic's face and the phrase: "Like it or not, he is the greatest of all time".