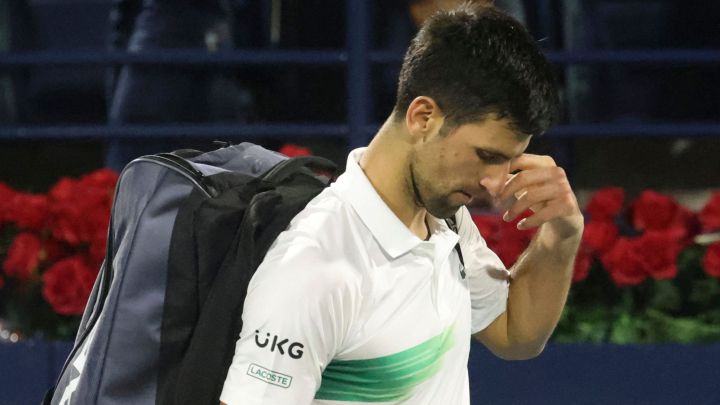 Novak Djokovic is virtually no longer at the top of the world rankings. It will stop being number one next Monday. He needed to reach at least the semifinals of the Dubai ATP 500 and Jiri Vesely, in the quarterfinals, avoided it. 6-4 and 7-6(4) in almost two hours of a game that opens the doors to Daniil Medvedev, competing in Acapulco, but without any pressure. "Congratulations"he briefly dedicated the Serbian to the Russian after his defeat. At a press conference, Nole extolled the level of his executioners in the Emirates and, in addition, valued his current state in shape after the break caused by the controversy in Australia.
Vesely's big game: "Congratulations to Jiri (Vesely). He played better, he went for his shots. His serve was tremendous. In general, his whole game was really aggressive. When I needed to generate big shots he did it, putting a lot of pressure on my games at serve. His backhand, on this fast and low bouncing surface, is really effective. He was hoping I could play at a higher level, for sure, and I know I can do better, but all credit in the world to Jiri."
Public Support: "Today I had a great atmosphere, just like in the first two games. I want to thank the crowd for creating a great atmosphere on court for both players. They were cheering me on and I'm honored to be in that position. Unfortunately, I didn't It was my day."
Continuity: "The more games I play, the more comfortable I feel. I need game rhythm. I haven't had many games in the last few months. We'll see what happens. When I get the opportunity to play, I will. Hopefully soon."
Objectives: "My goal is to continue playing tennis. I want to play as long as the circumstances in my life allow me, as long as the people around me support me. I care about winning every match, like any other player, regardless of age. I hope I can be competing very soon. If they give me the opportunity, I will try to squeeze it to the maximum".
Age: "I don't look at age as a limiting factor in my career. I still feel great about my body, how it recovers and how it holds up. It treats me well, so to speak."
Lost opportunity: "I've had so many missed opportunities in my life…every time you lose a match and stay out of the tournament it's a missed opportunity. If we look at it that way…I don't want to mourn the matches I lose. Now I've passed that phase. I've lost so many games in my life that I don't feel like the games I lose stay in my head like maybe they did at the start of my career."