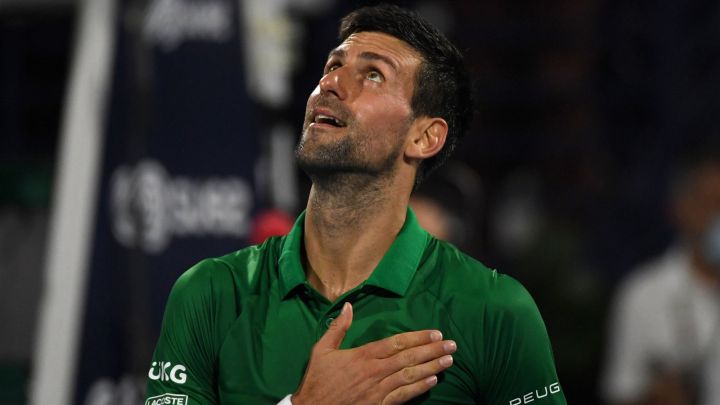 the serbian Novak Djokovic, number one in the world, justified his decision not to get vaccinated against the coronavirus because of the knowledge he has of his body, which leads him to think that he does not need to do it, and because he considers that he is not a threat to anyone. "Based on the information about the vaccine, I have decided not to get vaccinated. It is my position. Will it change? I don't knoweverything evolves rapidly, as we see in the decisions of certain governments", indicated the player in an interview published this Thursday by the newspaper L'Équipe.
"Right now, I don't feel the need to do it to protect my body and I don't have the impression of being a threat to others. Vaccinated or not, the virus can be transmitted. It is my position and, for the future, my mind is open. Everything is possible", he added. Djokovic pointed out that his tennis career has been based on a deep understanding of his body, which has led him to have few injuries and a "perpetual search to improve the body, to improve performance and increase the capabilities of the organism."
"The organism must function all the time at full steam for more than fifteen years. Who has been able to do it apart from Roger (Federer), Rafa (Nadal) and me? (…) There is a huge job behind all this", he pointed. She recalled that she has had few injuries and has made some big decisions based on it in the past, like delaying his elbow surgery in 2018 or changing his diet in 2010 to eliminate gluten.
Djokovic compared himself to other athletes who constantly think about their lifestyle, including he quoted LeBron James, Kobe Bryant, Tom Brady or Cristiano Ronaldo. The tennis player put his decision not to be vaccinated in relation to this way of life. "No one on Earth knows my body better than me. I want to be the sole owner of my body. If I don't have a sufficient understanding of my body, it's like giving autonomy to another," he said.
"Sometimes it is said that they influence me. No. I consult like everyone else with conventional doctors. A lot. Specialists in pneumonia, immunology, in Serbia, France, Switzerland, the United States… I listen to them and with the knowledge of my body I make my own analysis and make decisions," he added. He insisted that "this decision does not have to remain the same" forever: "Things change every day, we see it with the pandemic. We don't know where the world is going."