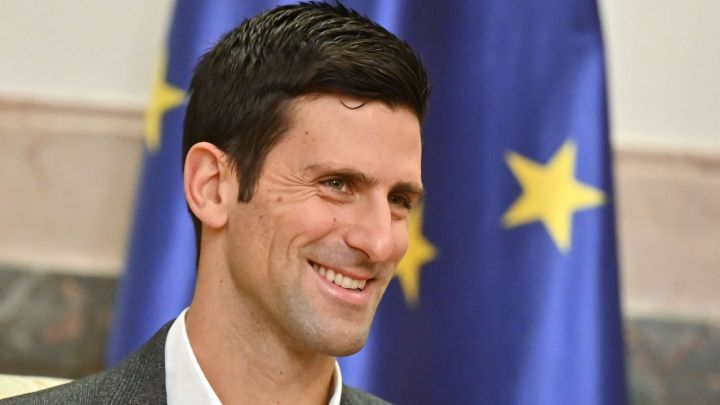 Novak Djokovic resists one more week as number one in the ATP ranking. The Serbian tennis player, who has not competed since the last Davis Cup finals after not being able to play in the Australian Open, adds his 360th week to the top of the classification with 10,875 points. It will be the last week that Djokovic appears with more than 10,000 points in the ranking, since next week he will lose the 2,000 that he defended as champion of the Australian Open 2021, which was postponed to February due to the pandemic.
This loss of Djokovic's points will not allow Daniil Medvedev to rise to number one. The Russian remains in second position with 9,635 points, although on the 21st he will lose 1,200 after being a finalist last year in Australia. A fall that will not prevent him from staying in second position since he maintains an advantage of almost 1,800 points over Alexander Zverev, who closes the podium this week with 7,865 points.
510 points behind Zverev there is Stefanos Tsitsipas, who appears with 7,355 points after being a finalist in Rotterdam and that this week he will compete in the Marseille tournament… and who he could overtake next week Rafa Nadal, who remains in fifth position with 6,875 points, although he will lose the 360 ​​points achieved last year in Australia.
In a week without major changes in the ATP ranking, the climbs by Diego Schwartzman (goes from 15 to 14 after reaching the final in Buenos Aires), Roberto Bautista (goes from 17 to 16) or Reilly Opelka, who sneaks into the Top-20 after winning the final of the Dallas tournament, while Pablo Carreño loses two positions and falls from 16 to 18 with 2,265 points. another spanish, Carlos Alcaraz, remains one week in the Top-30 in 29th place with 1,673 points, just ahead of the Swiss Roger Federer which closes this Top-30 with 1,665 points.
Barty leads with Badosa fifth, Kontaveit surpasses Muguruza and Párrizas achieves his best ranking
In the WTA ranking this week there are no significant changes either, since Ashleigh Barty adds her 115th week at the top of the ranking with 8,330 points, surpassing the Belarusian Aryna Sabalenka, second with 5,698 points, by 2,632 points, and the Czech Barbora Krejcikova, third with 5,533 points, by 2,797.
The Spanish Paula Badosa maintains one more week her best historical ranking in fifth position with 4,429 points and is only 23 behind the fourth place of the Czech Karolina Pliskova, fourth with 4,452. For his part Garbiñe Muguruza falls from sixth to seventh place with 4,195 points after the victory of Anett Kontaveit in the Saint Petersburg Tournament, which has allowed the Estonian to climb to sixth place with 4,241 points. Sarah Sorribesin 32nd place with 1,588 points, and Nuria Párrizas, who reached her best historical ranking by climbing to 48th place with 1,143 points, complete the Spanish presence in the Top-100 of the WTA ranking.