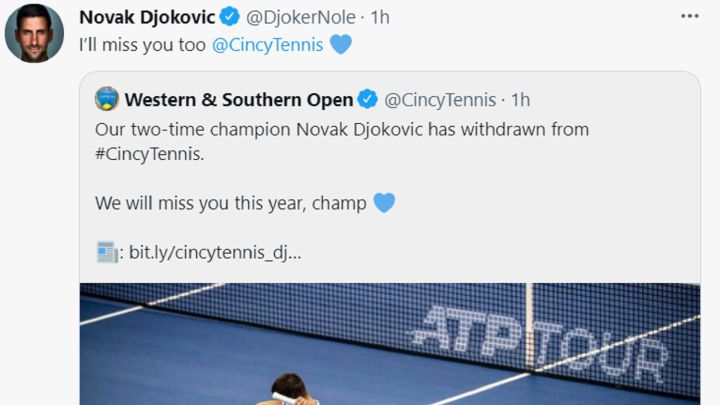 Serbian tennis player Novak Djokovic, current number one in the world ranking, confirmed this Monday his withdrawal also for the tournament in Cincinnati (United States), sixth Masters 1,000 of the season, so he will return to action already at the US Open.
"Dear fans, I wanted to share with you that it is going to take me a little longer to recover as I am recovering from a rather exhausting trip from Australia to Tokyo. Sadly, that means I won't be ready to compete in Cincinnati this year, so I'll focus my attention on the US Open and spend more time with family. See you soon in New York! "Wrote 'Nole' on his social media.
Djokovic played the last Tokyo Olympics where he could not get a medal, which in the case of having been gold would have served him to complete the 'Golden Grand Slam', but lost in the semifinals with the German Alexander Zverev and in the fight for bronze with the Spanish Pablo Carreño. Djokovic has already dropped out of this week's Canadian Masters 1000 and will now also not be in Cincinnati, where he has won in 2018 and 2020. The Serbian will focus his energies on trying to win the US Open and becoming the first to win all four. 'greats' in the same season since the Australian Rod Laver achieved it in 1969.