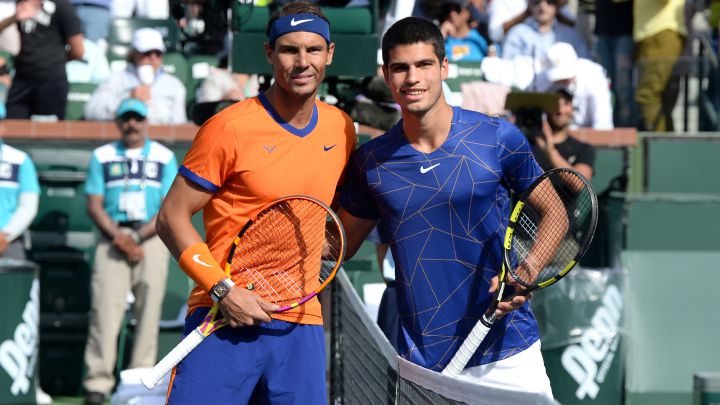 The former tennis player and Eurosport commentator Álex Corretja has been the last to assess the great success of Carlos Alcaraz with the conquest of the title in the Masters 1,000 in Miami. Speaking to Eurosport Corretja has been surprised by the performance of the young Spanish tennis player and how, indirectly, Alcaraz's successes can motivate Rafa Nadal.
Corretja wanted to highlight Alcaraz's determination and consistency to display his game regardless of the surface. "What Carlos Alcaraz is doing is almost a miracle. He has been improving a lot. Two years ago he was number 300 in the world, a year ago he was number 100 and now he is number 11. His jump has been amazing. If you see that he has great talent and determination to be aggressive and play well, the way he is playing, not only on clay, but also on hard courts and his consistency, are really impressing me. He played in Rio and won, in the Davis Cup also on clay and won and then he reached the semifinals in Indian Wells and now he has won in Miami. This is something very big, something very special and it invites him to look forward because he will be someone incredible in the present and also in the future."
In fact, Corretja also highlights the maturity with which Alcaraz plays his matches despite being only 18 years old. "Alcaraz's consistency is incredible because he moves very well, he is very aggressive. His forehand is very big and with his backhand he has improved a lot. He plays flat, he can change over the line, when he runs to the ball he is very explosive. He is improving. a lot of his serve but still probably that is the part of his game that he can still improve plus. He is brave, he likes to attack but he also likes to defend, he doesn't mind doing it and that combination can make him an incredible player, because he has the feeling that he can command. But at the same time he sees that he needs to defend, hold and annoy the opponent with the ball. And he does. This is something that not everyone has and Alcaraz does. Also, his attitude is great, he is always positive and always has a good character. And I think that's something very special."
Corretja also believes that Alcaraz's latest successes can serve as a stimulus for Nadal to continue displaying his best tennis. "I think the growth of Alcaraz is perfect and sensational for Rafa Nadal because he is the great champion we have ever had. Now there is a new boy who knows what he has in mind and Rafa will have to go to the limit to pass him and beat him. This is perfect for Nadal because it will force Rafa to keep improving his game. He will find ways to beat Alcaraz because he played against him in Indian Wells and suffered a lot. He knows that he needs to play his best tennis to beat him. Nadal is older but has more experience. He is the best in history, especially on clay, but facing Carlos will be a great challenge for him. I think Alcaraz's success is good for him because it will motivate Nadal to continue training and improve things. to see how he can do damage to Alcaraz or other rivals".
Corretja stressed that Nadal is not jealous of Alcaraz, since he knows that he will be a fantastic player and describes the appearance of the Murcian as the best news for Spanish and world tennis. "Both are Spanish, great guys and very humble. But at the same time we see that the attention is with Nadal, but now he also shares it with Alcaraz. And it is something that Rafa will also enjoy very much. Rafa is not jealous of Alcaraz, he knows that he is fantastic, but that he still has a long way to go and that one day he will be close to Rafa. At the moment, it is only beginning, so we are going to go step by step, but this is great news for Spanish and world tennis, it is the best news we could have".
Finally, Corretja also gives Alcaraz options to win Roland Garros, although he believes that he should manage the experience better and also organize his calendar well. "Alcaraz has a real chance to win Roland Garros, of course. He will be among the three or four favorite players to win the title. We have to see how his clay season goes, but right now nobody wanted to play against him because they know they are going To suffer. You see a guy flying over the court, hitting the ball hard, defending well and fighting to the end. He has shown that he controls his emotions well even if it is a tie-break or a difficult moment, he knows how to deal with it. He plays as if he has a lot of experience but he is very young, so it shows that he is a very intelligent and very professional boy. He now needs to control his schedule, to know where he wants to have his peak form and he is only 18 years old. It's good that he has that freshness to say 'Okay, I can give back what it takes', but he also needs a little more experience. But he's picking her up day by day, so he's ready to take on whoever she is. It doesn't matter if it's Djokovic, Nadal, Zverev or Tsitsipas, I think he's ready."