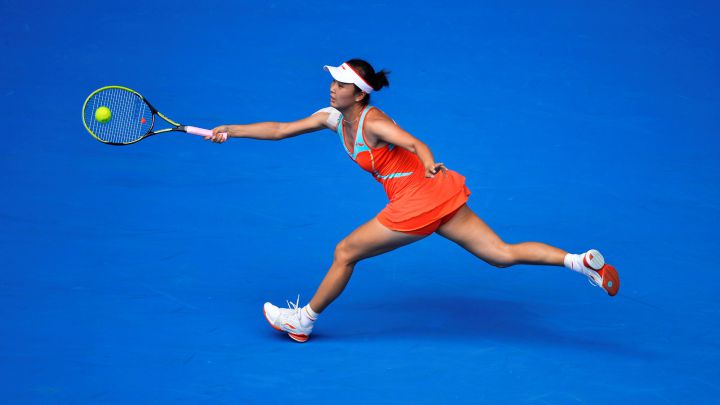 The editor-in-chief of the international newspaper of the Chinese Government 'Global Times', Hu Xijin, has published a video on his Twitter account showing the tennis player Peng Shuai, who disappeared after denouncing the sexual harassment of her country's former deputy prime minister, apparently participating in the opening ceremony of a tennis tournament this Sunday.
"The 'Global Times' photojournalist Cui Meng has captured her on the spot," Xijin wrote, after having assured in the last hours that the tennis player would appear in public "soon" and participate in some activities. In the video, Peng can be seen waving alongside other people in a stadium. The also journalist of the 'Global Times' Qingqing Chen has published in her Twitter account another video in which Peng can be seen signing tennis balls surrounded by young people. "Video shot by my colleague Cui Meng at the National Tennis Center showing Peng Shuai signing tennis balls oversized during the opening ceremony of the final "of a youth tennis tournament, the journalist wrote.
On Saturday, Xijin also published two videos that apparently showed Peng having dinner at a restaurant, with which the editor sought to dispel doubts about his whereabouts and health, although the images were not considered "sufficient" by the Association. Women's Tennis (WTA). The United States and the United Nations had also demanded information about the tennis player's whereabouts and condition, which had not been seen in public since she accused Zhang Gaoli, a former Chinese Deputy Prime Minister, of forcing her to have sex at his home.
Doubts in the WTA
Meanwhile, the women's circuit has questioned the true status of Peng Shuai, as it questions whether the tennis player is truly free or not. The WTA President Steve Simon issued a statement on Saturday in this regard: "I am glad to see the videos published by China's state media that appear to show Peng Shuai in a restaurant in Beijing. While it is positive to see her, it is not clear whether he is free and capable of making decisions and acting on his own, without coercion or outside interference. This video alone is insufficient. As I have said from the beginning, I remain concerned for Peng Shuai's health and safety and that the sexual assault charge is being censored and hidden under the rug. I've been clear about what needs to happen and our relationship with China is at a crossroads. "