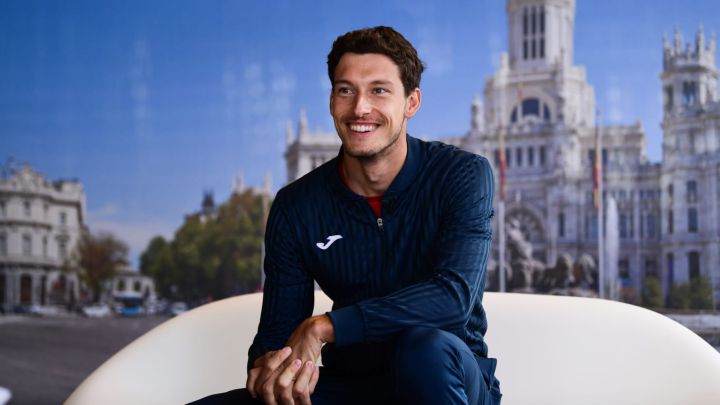 Pablo Carreño (Gijón, 29 years old) arrives in Madrid at a sweet moment in his career after being a semifinalist at the US Open for the second time and a quarterfinalist at Roland Garros last year. A few weeks ago he won his fifth title in Marbella, and last Saturday he fell in the penultimate round of Barcelona against Rafa Nadal, ultimately champion. The Asturian does not hide that his desire is to return to the top-10, but he is not satisfied with being the 10th, he wants more.
How do you face the tournament?
After the three weeks that I played on clay, which was very good for me, mentally when I finished in Barcelona I was a bit saturated, but very happy with the results. I have had a few days to rest and regain strength, and he arrived in Madrid physically and tennis well. I think I am giving a very high level. I really want and am very confident. I think I can do a good result.
Will he have the illusion of pulling out his thorn in a tournament that has not given him well so far?
It's true, but I never prepared it well at all, because I always came from Estoril, where I went far (he was a finalist in 2016 and a champion in 2017) and without time to adapt to a tournament that is special and different because of its height. This time it is different, because I arrived on Thursday to try to face it in the best way. So there are no more excuses. I have to show my level, although I don't put too much pressure on myself. I have been on a pretty good dirt tour, so if it doesn't go perfect here it won't be a tragedy either.
He has a difficult picture (he will debut against a rival from the previous one and if he advances on his way there would be Fritz or Ramos and Berrettini, among others). How do you see it?
In the Masters 1,000 there are no easy draws. We are the best in the world and all games are tough, even if you are seeded. The level is very high. We will have to start at the top, against a qualifier that it will come rolled, something important in this tournament and that it will come in handy for that first round.
I am really looking forward and very confident. I think I can do a good result.
What is it about the Mutua that makes it especially difficult for almost all tennis players?
The conditions are different from the rest of the tournaments on the gravel tour. Marbella, Monte Carlo, Barcelona and Estoril are played at sea level, like Rome. The ball is much slower than in Madrid, where it is much more alive. And here in the same day everything changes if you play day or night. You can get a day with a lot of sun and another more cloudy. If it's good, because of the height the balls go very fast and that makes things a bit difficult, but it is a handicap for everyone.
How do you rate your trajectory from the end of the confinement last year until now?
During the confinement I did a very good job in a few months that we do not usually have during the season to form a good physical base. I started well and the results came. That is why I took confidence. Already this year, due to the quarantine of Australia, everything got a bit complicated and I had that injury that took me off the slopes for the entire month of February. We decided not to travel to Miami and prepare well for the gravel tour and the play is going well for us, because my feelings are very good.
Are you recovered from those annoyances?
The abdominal tear is completely overcome, but I have some discomfort in the right hamstring, in an area where I also had a tear a few years ago at Roland Garros. Although they are controlled. I have to keep working so that the strength levels are balanced and the discomfort goes away and I can play 100%. I play bandaged, but I have already shown that I can.
Why did these injuries occur?
I, and many people, blame it on the stoppage of the Australian bubble. Spending 15 days without doing almost nothing makes the preparation go to waste. I was unlucky enough to break my abdominal and, as a consequence, having to stop and start over will lose rhythm. But now I have gotten into the cruising rhythm of playing tournaments and my body is ready for competition.
"My greatest evolution has been mental. I am a more aggressive player, who imposes his tennis and his rhythm"
During this time we are talking about, what do you think has improved the most?
My greatest evolution has been mental. I am a more aggressive player, who imposes his tennis and his rhythm, except with very, very top rivals, against whom perhaps I am not able to dominate the games. Against the others, I impose my rhythm. That makes people respect you, take you into account, and enter the court knowing that you can be a favorite and take the pressure.
Do you see more of a Grand Slams player?
The truth is that the Grand Slams have been doing well for me for a few years now, I have been a semifinalist at the US Open twice and I have reached the Roland Garros quarterfinals twice. Excluding my early years, when obviously I did notice the difference due to the level of the opponents and the physical and mental demands of the five-set matches, since five or six I have been very prepared to achieve good results. He didn't notice much of a difference between the majors and the ATPs anymore. The experience is a degree and I am going to turn 30 years old. That makes things pretty clear.
Now he has many points to win and is very close to the top-10 …
My goal since the preseason started was to get back into the top-10. We did not know very well how the ranking would go and we have seen that there are still points from 2019, which seems crazy to me, but despite that we will try to continue to win as many points as possible, although that system hurts me. I defend almost nothing now and everything I do will add up. I want to get closer little by little, without obsessing or settling if I get to 10 with being there. My level of play is very high and it is a real possibility to aspire to that.
"The teammates and rivals see a Carreño who is mentally and physically strong"
Here you could cross Berrettini, which is the 10 …
For that I have to win two games first, which is not easy.
But now the rival to beat may be you …
I do notice that the teammates and rivals see a Carreño who is mentally and physically strong, and to beat me they have to play a very good game. Against a top-10 like Schwartzman in Barcelona he was asking for 5-2, I stayed there and turned him around. Those little details make people respect you and make things a little easier for you when you enter the court.
How did you see Rafa in Barcelona last week (he lost to him in the semi-finals)?
Although he is not at his best level, because it has been very, very high and it is not easy to maintain or recover it, because he had not played since Australia, Rafa, especially on clay, is the best player there is right now and there has been in tennis history. It is very difficult to play against him. You must be very clear about the weapons and that a very round match comes out to be able to hurt him and hope that he is not at his best level. He's a favorite for all clay-court tournaments, although I didn't win them. He is always counted on for the title.
And what about Carlos Alcaraz, whom he has 'sponsored' in Villena?
I am lucky to know him well and have trained with him many times. He is a boy who has a lot of room for improvement, and that is a very good thing, although he already has a very high level and pace of the ball that allows him to compete with the professionals. He has to learn things especially on a mental level, how to manage his emotions in the moments of the game. For that he has the best possible coach, which is Juan Carlos (Ferrero), who knows what it is like to go through that and can continue to help him a lot. I try to support him as much as I can, we get along very well, we have a very good relationship and we really like to compete in everything (also in chess).