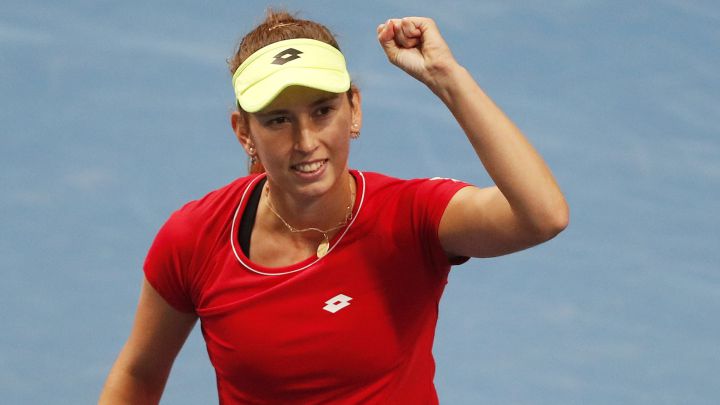 Belgium, champion in 2001 with Henin and Clijsters, is the country that had the honor of opening the scoreboard for the first edition of the new Billie Jean King Cup Finals. Greet Minnen and Elise Mertens won their singles matches against a Belarus without Aryna Sabalenka, and placed a 2-0 that they shortened to 2-1 final in the doubles Vera Lapko and Aliaksandra Sasnovich, by winning 6-4 and 6-3 Mertens and Kirsten Flipkens, two consummate stuntmen.
Minnen reaped the first win of the first day of competition on track 1 of the O2 Universum, venue connected to the O2 Arena in Prague (Czech Republic), where the championship is held. The 24-year-old and 70th player in the world he could with Iryna Shymanovich (263rd), which he beat by a double 6-2 in 70 minutes. Later, Mertens (18th) prevailed, with some difficulties (6-2, 4-6 and 6-2 in 2h: 08), to Sasnovich (86th), who threw the game in the third set with a bad shot.
French champion stumble
In the center, France, champion of the last Federation Cup, that of 2019, debuted with a defeat that perhaps they did not expect against a Canada without Andreescu or Fernández. The doubles point, achieved by the specialist Gabriela Dabrowski and by Rebecca Marino against Clara Burel and Alize Cornet (6-3 and 7-6 (6)) gave the victory to the North American team, which went ahead thanks to Francoise Abanda (24 years and 353rd), who came back against Fiona Ferro (4-6, 6-4 and 6-4). Later, Cornet drew with suffering against Marino (6-4 and 7-6 (5)). But the tie was on the wrong track and in the pair match, the French had the upper hand to lose.