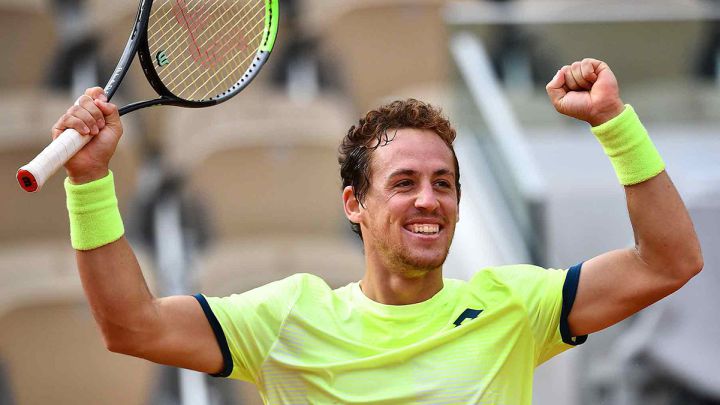 Full stop to the first round of Luedenscheid Challenge (Germany) with lights and shadows for Spanish tennis players. Barranco and Carballés went to the round of 16, while Menéndez and Andújar were eliminated.
Roberto Carballés beat Argentine Nicolas Kicker in two sets (6-4 and 7-6 (3)). The first set was a real madness, with up to five service breaks. The Tenerife native went 0-4 down, but came back after achieving six consecutive games. In the second, more even, the tie-break was reached, in which Carballés was superior. In the second round he will face Chilean Jarry.
Javier Barranco also passed the round after defeating Facundo Mena (6-3 and 6-4). The young Almeria did not suffer too much in the first set, and in the second, he traced two service breaks. His rival in the second round will be the Dutch Robin Haase, which defeated him in 2019 at the Florence Challenge.
The bitter face of the day was the elimination of Adrián Menéndez and Pablo Andújar. Menendez fell to Safiullin 1 set to 2. He lost the first 2-6, in the second he left his rival to zero in a tie-break, and in the third and final set, the Russian won the game.
For its part, Andújar ended up complicating a match that was put in his face. The Cuenca tennis player beat Basic 7-5 in the first set, and wasted a match ball in the second. The Bosnian tennis player came back and endorsed him an unappealable 0-6 in the third and final set.
Pedro Martínez, waiting for the rain to stop
Alcira's tennis player, number 77 in the ATP ranking, had to interrupt his match against Carabelli due to the rain. The Spanish tennis player had lost the first set 6-2, and had won the second 4-6. In the third, with 4-3, and 30-40 in favor of the Argentine, the rain forced the match to be interrupted.