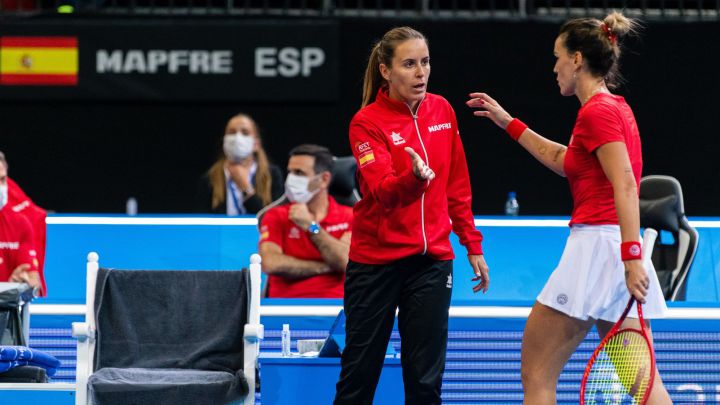 Anabel Medina, captain of the Spanish team of the Billie Jean King Cup, formerly the Federation Cup, makes a positive assessment of the National Team's performance in the Finals that are being played at the O2 Arena in Prague. Despite the elimination in the group stage, with a team diminished by the voluntary absences of Garbiñe Muguruza and Paula Badosa, the Valencian extenista is not only left with this competition when making her analysis, but extends them to all four years in office: "When I assumed the captaincy, the idea was to get as far as we have now. And they have been four very good years, with five games won in a row. That honors me as captain and the girls as players. We have a large fan and you can always make a good team, "he said.
"Here we almost got into the semifinals. The tie against Slovakia helped us grow and so did the United States, even if they lost. In the end, the competition is very demanding on an emotional level, because representing your country is not easy. They are prepared to take on that responsibility and compete well. We will fight again to be in the Finals, "added Medina, who is" very happy "with the time she has been captain and sets a clear goal for herself. "These four years of which we speak have been very good because I have felt fulfilled and the players have responded very well. I feel valued within the team and that makes me continue to want to work for a future project which is to try to win the Cup ".
Regarding the possible collaboration within a time of the recently retired Carla Suárez, Anabel, whose continuity in the Spanish Federation is, in principle, assured, is clear that she would welcome her with open arms: "I would take a piece of paper from Carla so that she could sign it. The captaincy is a very demanding job and you need support. If it were Carla, it would be spectacular, because we have known each other our whole lives, we are friends, we know all the players, and there is no way to grow the team than by incorporating people who have experience. More than Carla, who has faced all the situations that we are going to encounter and that can contribute a plus to all the girls who pass through the team, nobody has ".
Sorribes and the future of the girls
Sara sorribes, number one of the National Team, launched a message of optimism about future commitments of the National Team, according to what he witnessed these past days in Prague: "With what Aliona (Bolsava), Nuria (Parrizas) and Rebeca (Masarova ) it is clear that there is a lot of future. The way in which they have competed and have managed to manage all the moments, I think says a lot about them as players. I hope we continue to have the opportunity to be in the Finals for many more years. "