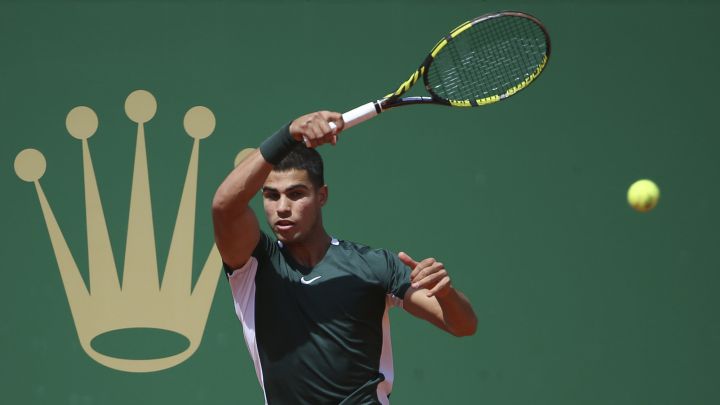 No one doubts that Carlos Alcaraz is one of the candidates to win this Conde de Godó Trophy, but no one doubts that it will be very difficult for him. Not even the protagonist himself, who He recognized that he arrives better than last season, with more options, but aware that he has a major challenge ahead of him. He is not worried about the possible quarter-final matchup with Tsitsipas or his level on the ground, but only thinks about his first game. He debuts on Wednesday against the Kwon-Paire winner.
sensations: "The truth is that this year I am a more established player on the circuit. I feel better and more prepared. Very much looking forward to playing here. This year I come with more options."
Defeat in Monte Carlo: "In the end it is difficult to change the surface. It was a complicated game, with rhythm. It is good for me to add hours on the track, I have been able to train a couple of days. As I train and add hours on the track, I feel much better. In Barcelona it will be a challenge, it is a very important tournament"
Tsitsipas on his side of the draw: "The truth is that I do not care. In the end I am a player who focuses on the first round, look at Monte Carlo. All players are tough, you have to play and you can win or lose. I only focus on the first round."
Public Support: "I feel very protected. Every city or country I go to I feel that the people are very fond of me and that makes me very happy. It is important that the public encourages you, that it is behind you. In all tournaments there are difficult moments and the affection of the public makes you push yourself up. I try to be a good person, I always say that you have to be a person first and then a player".
Improve the serve: "In the match against Korda in the first set I had a very low percentage. Then I got a lot better. I've been improving it, not because I did badly in Monte Carlo, but because it's something I've been trying to improve for a long time".
Rest: "It's complicated. You have to spend hours on the track to get used to moving well. But rest is also very important, I come from long tours. You have to know how to calm down and rest. I've had a few days to relax.
Absences of Nadal and Bautista: "In the end, the players who are here are very good, they all have options to win the tournament. Each party is a world. Millions of things can happen because the rivals are very good. That there are casualties does not change my options ".
Press: "I don't pay much attention to it. I don't watch everything that is talked about me. If they speak well of me, it is because I am earning it, doing things well and winning tournaments. I'm working a lot and that means they talk about me "
mind moment: "I knew it would be very difficult in Monte Carlo. In every game I play I think I can lose, I'm not a God or anything. I can't always win. You have to play great matches against everyone to win tournaments. Losing in the first round was not a drama, I knew I had to work more on the ground. I don't arrive disappointed from Monte Carlo, but with clear things that I have to improve".