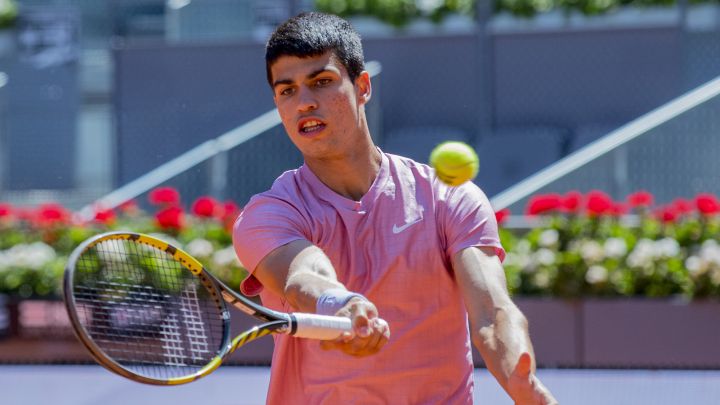 The ATP award for the Greatest Progress of the year in 2021 It is intended for a player who achieved a notably higher position in the FedEx ATP Ranking at the end of the year, after having shown a clear improvement in level during the season. This year the nominees are Carlos Alcaraz, Aslan Karatsev, Cameron Norrie and Casper Ruud.
| | | | |
| --- | --- | --- | --- |
| Player | 2020 at the end of the year | 2021 at the end of the year | Best Ranking |
| Carlos Alcaraz placeholder image | No. 141 | No. 32 (+109) | No. 32 (8 Nov) |
| Aslan karatsev | No. 112 | No. 18 (+94) | No. 15 (8 Nov) |
| Cameron norrie | No. 71 | No. 12 (+59) | No. 12 (8 Nov) |
| Casper ruud | No. 27 | No. 8 (+19) | No. 8 (25 Oct) |
Alcaraz
Carlos Alcaraz has made headlines in 2021 for his great season. The Spaniard started the year as No. 141 in the FedEx ATP Rankings, but finished the course in the highest position of his career as No. 32 under the baton of his coach Juan Carlos Ferrero.
In a historic year, at 18 he became the youngest man to reach the third round at Roland Garros since Andrei Medvedev did it at 17 in 1992, before winning his first ATP Tour trophy at Umag, after beating Richard Gasquet in the final.
Karatsev
Aslan Karatsev's season began against Brandon Nakashima in the first round of the Australian Open qualifying rounds, when the Russian was No. 114 in the FedEx ATP Rankings. A month later he reached the semifinals of the first Grand Slam of the season, defeating Diego Schwartzman, Felix Auger-Aliassime and Grigor Dimitrov before falling to Novak Djokovic. It was a performance that gave Karatsev a breath of fresh air that he confirmed in Dubai, where he won his first ATP Tour crown, after beating Lloyd Harris in the final.
Norrie
When Cameron Norrie was asked in January who he thought would have a successful season, the 26-year-old Briton said he himself. A claim he backed up with good performances, going from No. 71 in the FedEx ATP Rankings at the start of the year to his career-highest position at No. 12. Norrie won his first title at the Los Cabos Mifel Open and crowned his first ATP Masters 1000 trophy at the BNP Paribas Open in Indian Wells.
Ruud
Casper Ruud has not stopped breaking barriers throughout his great 2021 campaign, taking his game to heights previously unsuspected on both clay and hard clay courts. He reached the semi-finals in two consecutive ATP Masters 1000 tournaments in Monte Carlo and Madrid, before claiming his first crown of the season in Geneva. However, it would not be the last. He also won in Bastad, Gstaad and Kitbühel to become the first player since Andy Murray in October 2011 to win three titles in three weeks in a row.